Advertising Agency from Rotterdam: Dare to Design
Dare to Design is the advertising company for organizations located in the Rotterdam area. With a full service approach we unburden our clients in the marketing and communicationfield and form a solid base for our service delivery. With specialties in webdesign (CMS, SEO), corporate branding, online marketing, marketing campaigns, social marketing, pricing and webshops we can service a wide scope of clients. En that's what we do. From beautiful growing small enterprises to large globals like MOL Europe, RSA and Rabobank. All clients we love to work for.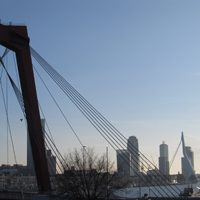 Our advertising agency is located at the Haringvliet in the centre of Rotterdam near the old harbour. With a balanced team of currently 9 specialists we are to deliver all our services in house.This gives remarkable advantages for our clients like flexibility, speed and quality of our products and services. And as a marketing and communication agency, we are proud of it. Would you like to have more information about our company and our products and services? Please take a look at Advertising Agency Rotterdam to see what we have got to offer to you. Advertising agency Dare to Design, we make it happen!